Bitter Melon is a wild edible variety of M. charantia, often used in folk medicine. Momordica charantia, known as bitter melon, belongs to the Cucurbitaceae family, which composed 47 species in Africa and 12 in Asia and Australia. It grows in the wild in tropical and subtropical Africa, Asia, America, and the Caribbean and can also be cultivated. Since ancient times, in many countries and regions, bitter melon has been used as an herbal medicine for the treatment of diabetes, and it still plays an important role in the prevention and remedy of diabetes in many developing countries. The extract from its fruits, vines, leaves, and even its roots have been used as a folk medicine for the remedy of toothache, diarrhea, and furuncle. Moreover, it is also used for the treatment of dysmenorrhea, eczema, gout, jaundice, leprosy, piles, pneumonia,
Up to now, numerous studies regarding the biological activities of M. charantia have been done, such as its hypoglycemic, anti-bacterial, anti-viral, anti-tumor, immunomodulation, anti-oxidant, anti-diabetes, anthelmintic, antimutagenic, antilipolytic, antifertility, hepatoprotective, and anti-ulcerogenic properties.
Because of many uses, bitter melon is extracted to make many products under these forms, depend on what purpose, people are easy to choose to get the best effect.
1. Capsule
This is the kind of capsule suitable for those who like the convenience, and do not have much time. Besides, capsule is a functional food that helps supplement and support the treatment of diseases such as high blood pressure and diabetes. Featured product in the form of capsule is Mudaru Forest Bitter Melon Capsule.
What is Mudaru Forest Bitter Melon Capsules?
Mudaru Forest Bitter Melon capsule is 100% natural, extracted from the leaves and fruit of forest bitter melon. The product effects are to help detoxify the body, support the treatment of diabetes, high blood pressure, reduce the risk of diabetes complications very effectively up to 40%. Besides, using Mudaru, you will feel sleep well, prevent cardiovascular diseases.
The uses of Mudaru forest bitter melon capsule
Support treatment of type 1 diabetes and type 2 diabetes: From scientific studies, forest bitter melon can reduce the activity of alpha glucosidase enzyme.
Helps lower blood sugar after each meal. The forest bitter melon contains Polypeptide-P, Charatin and Momorcidin, which are responsible for transporting sugar to the body's organs. Leads to a significant reduction in sugar.
Prevent liver diseases such as fatty liver, elevated liver enzymes ... Mudaru capsule restores liver function, detoxifies the body. In addition, the fiber in forest bitter melon is good for bile glands, reducing liver enzyme levels.
Gout treatment support: People with this disease often have stiff and swollen joints. Due to excess of Uric Acid. Forest bitter melon will help eliminate Uric Acid in the body, improve the health of people with Gout.
Effective cancer prevention: Mudaru capsule made from natural that rich in Vitamin C, it is effective in eliminating cancer germs in the body. Besides, it helps the immune system to be more complete.
Treating people with high blood pressure, lowering blood fat, improving sleep.
Usage:
Take 2 times a day, 1-2 capsule each time before meals
It should use continuously from 2-3 months to get the best results.
2. Powder
The bitter Melon powder is edible fruit rich in Vitamin C & Vitamin A. Its available is widespread in Asia/ Africa/ and the Caribbean, but it is hard to find elsewhere. Instead, you can enjoy the fruit in powder form as a supplement to add to smoothies, teas, meals.
Product is powder form is Organic sun-dried Momordica Charantia Powder

While it is high in vitamins, it provides several other nutrients, such as folate, potassium, zinc, & iron. It has antioxidant compounds that help cells to repair and prevent further deterioration. Some research shows that bitter melon is effective in lowering blood sugar in people with type 2 diabetes and improving blood sugar control.
3. Tea
This form is suitable for those who like to enjoy tea and love the light bitter taste of bitter melon. Drinking bitter melon tea can replace daily drinking water, but should be diluted with plenty of water.
You can try for Mudaru Forest Bitter Melon Tea as the tea bag, very easy and convenient for use.
Mudaru Forest Bitter Melon tea uses no preservatives and is produced entirely from forest bitter melon in natural with ingredients including:
- 80% forest bitter melon
- 20% Stevia
The raw material area is cultivated in an organic way, saying no to chemical fertilizers, pesticides, and growth stimulants. After that, the preliminary process of raw materials and processes is conducted to ensure that the standards are manufactured on modern technological lines up to the standards.
Direction:
• Put tea bag into a cup, pour about 120ml boiling water
• Wait 3-5 minutes and enjoy
• Can add sugar or honey to enhance the taste of the product
• You should use continuously from 2-3 months to get the best results
Use in the following cases:
• Hot heat
• People with diabetes and high blood sugar
• Using Mudarutea instead of water will help to sleep well, detoxify
4. Liquid
This form is fast effective, because of liquid, the product is easy to transform to the cells. This form is suitable for those who like a smell of bitter melon.
This is the Highest Strength Alcohol-based liquid extract from bitter melon with natural ingredients.
High-Quality Bitter Melon liquid extract- crude extract of first extraction! Meticulously produce extracts according to precise standards where each herb is extracted according to the distinct characteristic of each plant.
The product strictly uses only organic or ethically sourced wild harvested material, highest quality alcohol, vegetable glycerin and crystal clear water.
Direction: Shake well before using. Take about 20- 30 drops to 2- 4 oz of juice or water up to 4 times per day.
5. Dried
Bitter melon is dried in whole fruit or slice, people use to make tea or used to mix with bathing water for children with rash, pimples.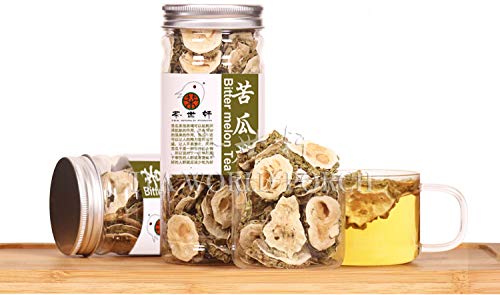 Bitter melon contains a variety of nutrients, protein, fat, carbohydrates, vitamins A, B1, B2, C, minerals, calcium, phosphorus, iron, of which the most vitamin C content, it is beneficial for the skin.
Bitter melon peptide-containing substance (hectogram mountain bitter gourd peptide-containing substance 25mg), peptide substance significantly lower blood sugar, regulate blood lipids, improve the role of immunity.
Brewing method:
- For hot tea, take some slice put into your cup, mug
- Pour 8 fl oz of water over
- Steep black teas and herbal infusions 5 minutes; Green teas for 124 minutes; If iced tea is your desire, steep normally, and then pour over ice.