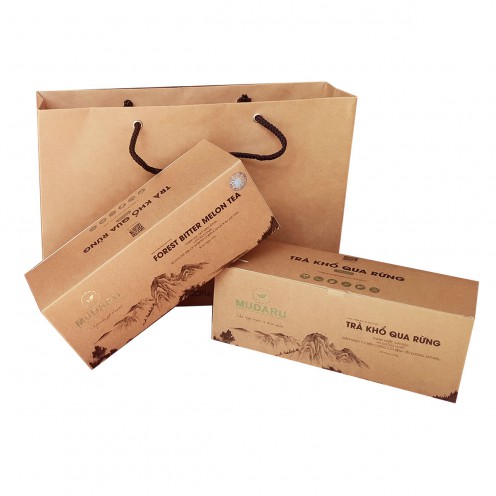 Safe for health, with the ability to treat some diseases such as: Diabetes, Blood fat, High blood pressure, Cardiovascular diseases...
Trademark:

Mudaru

Specification:

50 Filter Bags

Barcode:

8936109960094

Certification:

3941/2017/ATTP-XNCB (VIETNAM)
BITTER MELON PLANT
Bitter melon (Momordica charantia) is a tropical and subtropical vine, widely grown in Asia, Africa, and the Caribbean for its edible fruit, which is the most bitter of all fruits. The plant bears yellow flowers; fruits have a distinct warty exterior of oblong shape; a thin fleshy layer is surrounding a central seed cavity having large flat seeds and pith.
Bitter melon has been in use in traditional medicine systems for a long time for a variety of ailments, particularly stomach complaints.
MEDICINAL USES
Effective for improve immunity, obesity, lipids and blood sugar.
Blood sugar - Studies have shown bitter melon lowers blood sugar through increased metabolism of glucose. It is used as a folk medicine for diabetes treatment. It contains a hypoglycemic or insulin-like principle, consider as 'plant-insulin' which is highly beneficial in lowering the blood sugar levels.
Cholesterol - Bitter melon help lowers cholesterol levels.
Rich in nutrients - Being rich in essential vitamins and minerals, such as vitamin A, B1, B2, C, and Iron.
INGREDIENTS
Each capsule contains 130 mg Momordica charantia extracts, equivalent to 1300 mg of dried Momordica charantia. The capsule is made of bovine bone gelatine (E441), Tartrazine (E102), Quinoline yellow (E104) and Green S (E142)
USAGE
- Detoxification.
- Contributes to stabilizing normal glycemia.
- Could reduce blood fat.
INFORMATIONS
Certification No: 187/2016/YTCT-XNCB.
Barcode: 8936109960049
Product Name: Forest Bitter Melon
Trademark: Mudaru
Producer: TNB VIETNAM CORP
Origin: Vietnam
Pack: Box of 50 Filter Bags
This product is very good for diabetics
- by
Jakiro Nguyen
2015-03-02
Using 1 month has markedly effective, I will continue to use this product.
8936109960094
Distributor list
AZUR BIOTOPES
2 Chemin de la Romaniquette. le Cascaveau, 13800 Istres, France
+33(0)630-92-1766
ALSO AVAIABLE AT AMAZON.COM
2121 7th Ave, Seattle, WA 98121, USA